Stay comfortably cool

WindFree Cooling
Stay comfortable cool with WindFree Cooling. It gently and quietly disperses air through 23,000 micro air holes, so there is no unpleasant feeling of cold wind on your skin. Its advanced airflow also cools a wider and larger area more evenly. And it uses 77% less energy than Fast Cooling.
Wash outdirt & dust inside with a press
Freeze Wash
Maintain the optimum performance with the push of a button. Freeze Wash quickly freezes the Heat Exchanger and then defrosts the ice. So it is washed in water, which washes away dirt and 90% of microorganisms. Finally, it dries up any moisture left. And it alerts you when it is time for a clean.
Enjoy a good night's sleep& save energy
WindFree Good Sleep
Get a really good night's sleep every night. The WindFree Good Sleep mode creates the ideal climate for sleeping – without an unpleasant cold air flow. Its temperature control with WindFree™ cooling helps you fall asleep fast, sleep deeply and comfortably and wake up feeling fully refreshed
Cools you faster
Fast Cooling
Cool rooms quickly from corner to corner, so feel comfortable wherever you are. Digital Inverter technology cools the air 43% faster. Its advanced design also has a 15% larger fan, 18% wider inlet and a 31% wider blade. So cool air is dispersed farther and wider, reaching up to 15 meters.
Easy to clean, removes airborne bacteria
Copper Anti-bacterial Filter
Keep the air conditioner working efficiently with less effort. The Copper Anti-bacterial Filter is located outside, on the top, so it can easily be removed and cleaned. Its dense mesh keeps the Heat Exchanger clean and The copper material contained in the yarn helps reduceup to 99% harmful bacteria
Automatically stays fresh and hygienic
3-step Auto Clean
Keep the inside of the air conditioner hygienic by doing nothing! After it's been working, the Auto Clean function automatically dries the Heat Exchanger using a 3-step process. It removes moisture by blowing air for between 10 to 30 minutes. So it prevents the buildup of bacteria and odors.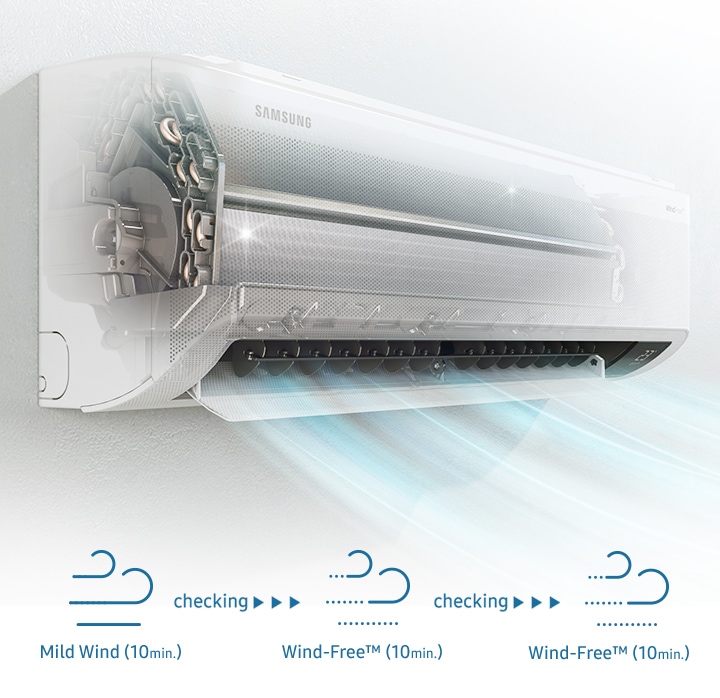 Effortlessly optimize energy efficiency
5-step Convertible Cooling
Save energy, but still stay cool. The 5-step Convertible Cooling* lets you adjust the compressor operation in 5 steps, from 40% to 120%, to suit your changing cooling needs, using the minimal amount of energy. You can also use it to reduce your daily energy consumption whenever you want.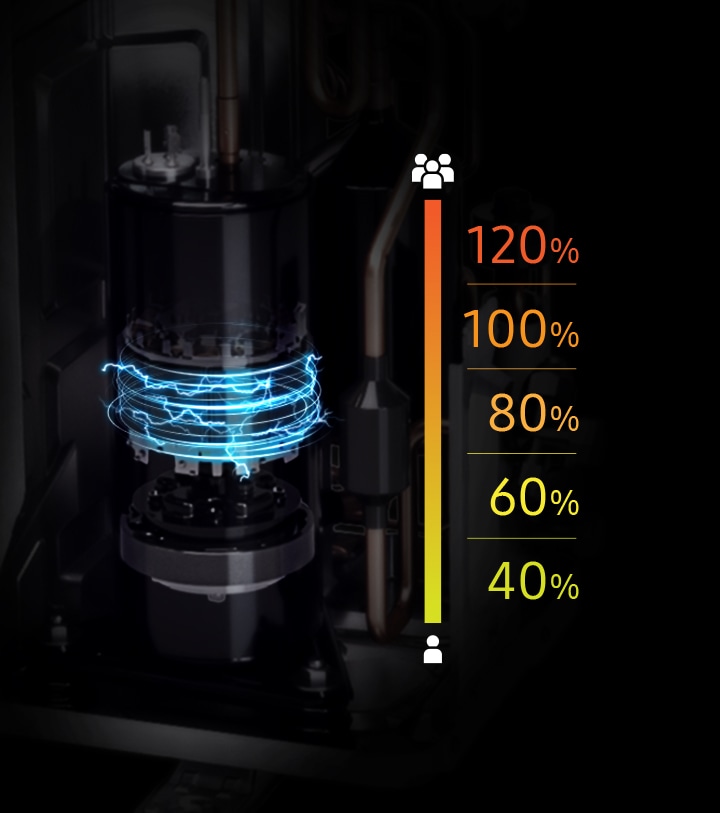 Cools efficiently
Motion your home efficiently if you're not there, and use up to 43% less energy . The Motion Detect Sensor detects if there's no movement and automatically switches to the WindFree mode before entering standby. You can also set it not to blow air towards you or to follow you wherever you move
Prevents corrosion, optimizes performance
Durafin Ultra
Safeguard the Heat Exchanger from damaging corrosion. The Durafin Ultra has an anti-corrosive layer and a hydrophilic layer that protect the Heat Exchanger from rust. Its superb corrosion-resistance was proven in a Salt Spray Test (SST).
Corrosion-resistant for added durability
Coated Copper Tube
Enjoy a longer-lasting performance and save money. The Heat Exchanger's coated copper tubes have 7.5x better corrosion resistance, protecting it against harmful environmental conditions, like dust and pollutants. It extends the lifespan, improves reliability and reduces maintenance costs.
Enjoy an even temperature across a room
4-way Swing
Create a comfortable environment with an even temperature in every corner of a room. The 4-way Swing function lets you remotely control the air direction or automatically expels air in every direction. As well as the auto up-down swing function it also has an auto left-right swing function.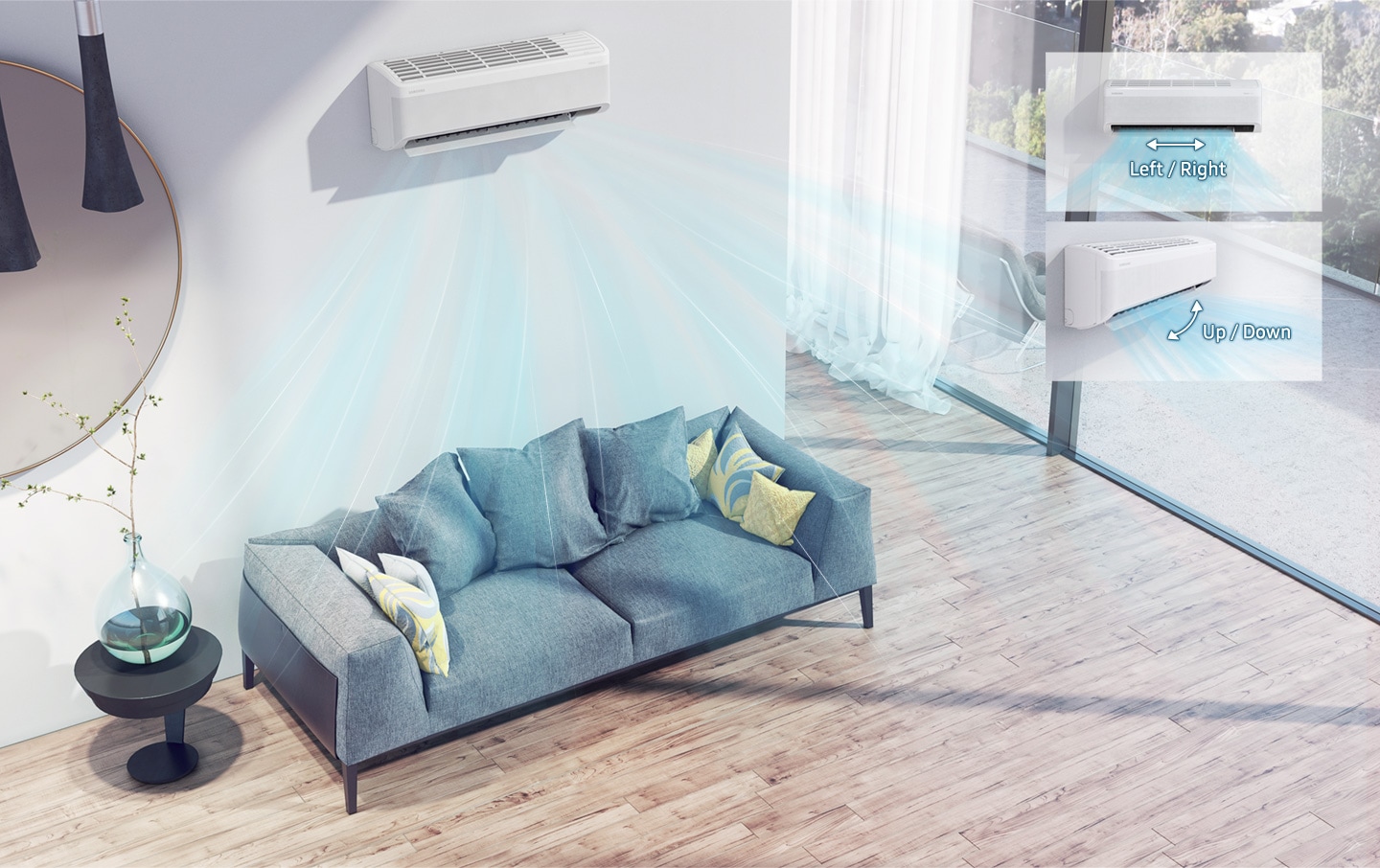 Brand

Samsung

Type

Split

ISEER

5.16 W/W

EER Cooling

3.97 W/W

Power Consumption

1260 W

Star Rating

5 Star

AC Capacity

1.5 Ton

Coil Type

Copper

Cooling Capacity

5.00 kW

Copper Anti-bacterial Filter

Yes

Compressor Type

BLDC

Noise Level Indoor

46/24 (H/L) dBA

Auto Clean Filter

Yes

Air Direction Control

Auto (Up/Down)

Auto (Left/Right)

Dimensions

Outdoor 880 x 638 x 310(WxHxD) mm

Indoor ; 1055x 299x 215 (WxHxD) mm

Noise Level Outdoor

47 (H/L) dBA

WindFree Cooling

Yes

Indoor Unit Weight

11.4 kg

Outdoor Unit Weight

37 kg

Warranty

1 Year product warranty , 10 year warranty on Compressor, 5 years PCB warranty