Experience the stunning looks and power-packed performance of the all-new 550 watts Nakshatra Mixer Grinder. Compactly built and elegantly designed, the mixer grinder occupies less space but attracts more attention. The power and durability of this mixer grinder takes on any kind of grinding with absolute ease. It comes with 3 stainless steel jars that cater to specific grinding needs. Take home the Nakshatra Mixer Grinder, Star of your kitchen. Included contents : • One Mixer Grinder Base Unit • SS Wet Jar 1500 ml with blade • SS Dry Jar 1000 ml with blade • SS Chutney Jar 300 ml with blade • User Manual
STURDY HANDLE
The specially designed stylish jar handles provide better grip & durability.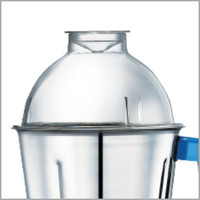 Dome Lid
The dome shaped lid provides extra space for the ingredients to move about, resulting in better grinding. Thus making it more efficient and convenient to use.
3 SUPER EFFICIENT BLADES
This super-efficient blade made of superior quality stainless steel can do better grinding of food ingredients according your requirements - fine, medium or coarse. It comes with 3 varieties of stainless steel blades to perform different operations.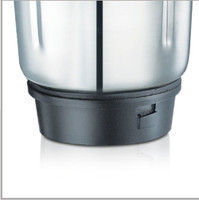 ALUMINIUM JAR BASE
The heavy duty aluminium jar base with powder coating ensures durability and high performance.
FLOW BREAKER DESIGN
The flow breaker jar design ensures that food ingredients are pushed on to the blade for faster cutting/grinding action, thus saving time and energy.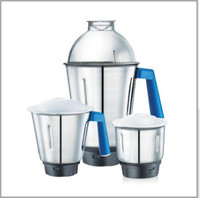 3 STAINLESS STEEL JARS
The jars are designed to perfection with superior quality stainless steel body with sparkling mirror finish. The dry jar and chutney jar is perfect for all your grinding and powdering needs such as dry masalas. The wet jar does grinding like idli, dosa batter and also it's suitable for preparing lassi etc. These jar grinds faster
Brand
Prestige
Colour
White and blue
General Features

Sturdy Handle | Dome Lid
3 Super Efficient Blades
Aluminium Jar Base
Flow Breaker Design
3 Stainless Steel Jars

Power

Power - 550 watts
Voltage (V)-230

Warranty
2 Years