The ultimate music authority.
HomePod is built to bring out the best in Apple Music. Just ask Siri and you can play pretty much any song you can imagine.
Deep bass with range you can feel.
The Apple-designed high-excursion woofer is positioned at the top of the speaker facing upwards, creating a wide range of deep bass that surpasses any traditional speaker. A six-microphone array, along with an internal bass-EQ microphone, analyses and compensates for the effect of the room on the bass response, providing rich, consistent sound. And a powerful motor drives the diaphragm a remarkable 20 millimetres, so the bass shines through even when the volume is low.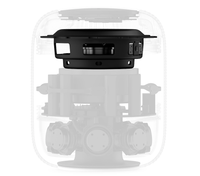 High-fidelity audio that's all around you.
A custom-designed array of seven beamforming tweeters, each with its own amplifier, creates tremendous directional control. Placed around the base and using a folded-horn design, they send the flow of music towards the centre and then out the bottom in a 360-degree pattern, resulting in an all-encompassing sense of space. This virtually eliminates early table reflections and allows for consistent high-definition sound.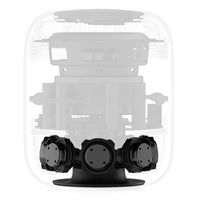 The biggest brain ever in a speaker.
An Apple-designed A8 chip orchestrates all the remarkable audio innovations inside HomePod. Like advanced signal processing so Siri can hear you over the music. Real-time studio-level processing that maximises the bass while minimising distortion. Buffering that's even faster than real time. And upmixing of both direct and ambient audio. You get amazing sound, every single time.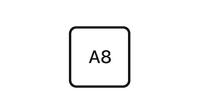 Designed to be seen and heard.
HomePod is wrapped in a seamless mesh fabric designed for aesthetics and acoustic performance. Available in white and space grey, it's gorgeous from every angle — yet virtually transparent to the sound waves passing through it.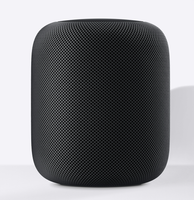 70 million songs never sounded so good.
Apple Music unlocks virtually every song you can imagine.1 Stream anything in our catalogue along with music from your existing library. And friends connected to your Wi-Fi network can stream their music right to your HomePod. Don't have Apple Music? Try it free for 3 months and cancel anytime.
Hey Siri, play the new album by Dualist Inquiry
Play music by artist, song or album.
Hey Siri, play something chill
Play music by mood or genre.
Hey Siri, play the Fitness playlist
Play Apple Music playlists or your own.
Hey Siri, play the latest On Purpose with Jay Shetty podcast
Listen to your favourite podcasts and radio stations.
Hey Siri, play the sound of ocean waves
Relax with Ambient Sounds.
Brand
Apple
Colour
White
Audio Features

Stereo pair capable
High-excursion woofer with custom amplifier
Array of seven horn-loaded tweeters, each with its own custom amplifier
Six-microphone array for far‑field Siri
Internal low-frequency calibration microphone for automatic bass correction
Direct and ambient audio beamforming

Connectivity

802.11ac Wi-Fi with MIMO
Direct guest access
Bluetooth 5.0
Multi-room speaker support with AirPlay 2

Dimensions
H x W - 172 x 142 mm
Weight
Weight-2.5 Kg
Warranty
1 Year